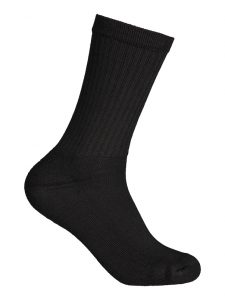 Moisture transfer sports socks for year-round use. Can be worn alone or under wool socks for work or leisure. Soft terry knit soles.
Made from: 95% Polypropylene, 5% Lycra
Measurements (unisex):
The dimensioning is based on the dimensioning tables given by the federation of Finnish clothing manufacturers (formerly Vaatetusteollisuuden Keskusliitto, now Finnish Textile & Fashion). The dimensions given in the table are fixed body dimensions in centimetres.
Size
34-36
37-39
40-42
43-45
46-48
cm
22-23
23,5-25
25,5-27
27,5-29
29,5-31