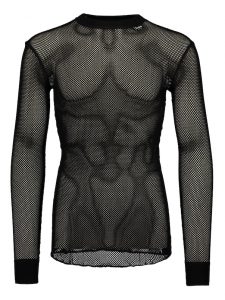 A breathable and moisture-wicking long sleeve shirt for year-round use.The fabric is made of a highly elastic, silver-ionized polypropylene mesh knit. Silver ionization prevents the growth of bacteria, so the outfit stays odorless and fresh for longer. The fabric is treated during the manufacturing stage, so that the core of the fabric retains this quality throughout its entire life cycle. All seams are flat sewn, so the product is comfortable to wear with no chafing or rubbing.
Can be worn when paddling in the summer or under an outdoor or hunting outfit. From the heat of the summer to a few degrees below zero, it can even be worn for heavy exercising at -15 degrees. In colder conditions, it can be worn underneath a thermal layer where it wicks moisture to the outer clothing layer. The mesh creates a warming air layer on top of your skin Wash at 60 °.
Made of: 100% polypropylene, silver ionization / antibacterial
Measurements (unisex):

The dimensioning is based on the dimensioning tables given by the federation of Finnish clothing manufacturers (formerly Vaatetusteollisuuden Keskusliitto, now Finnish Textile & Fashion). The dimensions given in the table are fixed body dimensions in centimetres.
A= Chest, cm: The chest is measured at the widest point, under the armpits. The tape measure must run straight across the back.
B= Waist, cm: The waist is measured at the narrowest point.
| Size | XXS | XS | S | M | L | XL | XXL | XXXL | XXXXL |
| --- | --- | --- | --- | --- | --- | --- | --- | --- | --- |
| A | 90-94 | 94-98 | 98-102 | 102-106 | 106-110 | 110-114 | 114-118 | 118-122 | 122-126 |
| B | 75-80 | 80-85 | 85-90 | 90-95 | 95-100 | 100-105 | 105-110 | 110-115 | 115-120 |