When Using a Face Mask: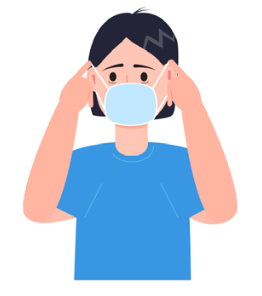 Always use a clean face mask with clean hands

Keep the mask clean: do not touch the mask during use.

Wash your hands before removing the mask.

Remove the mask by touching only its straps and place the mask directly in the washing machine or a plastic bag.

Wash your hands and the mask after each use.

Wash the mask after each use at 90 degrees or boil it.

A dirty mask can spread viruses.

Touching the mask increases contaminants in front of the airways.

During use, the mask must not be removed or worn around the neck.

Note that a moisturized mask allows microbes to penetrate more easily than a dry one.

Pull the top of the mask over your nose and the bottom under your chin.

Do not use the mask on others.

There is more harm than good in a damaged mask.
Material: 100% Polyester CoolMax
The mask does not correspond to personal protective equipment or surgical nasal protection: masks do not provide the user with reliable protection against coronavirus for example.
The mask does not meet personal protective equipment regulations and is not CE marked. The mask does not meet the requirements for FFP2 / FFP3 protection level.
washing machine or plastic bag. Wash your hands and wash the mask after each use.
The mask must be washed at 90 degrees.