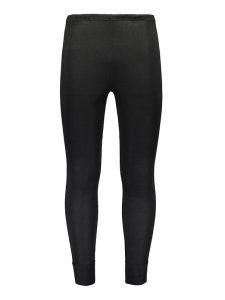 Long Johns that provide instant protection against heat, flames and radiant heat. To be used under protective clothing.
Made from non-combustible and antistatic meta-aramid-carbon blend. Flat seams, sewn with non-flammable meta-aramid yarn do not chafe or rub in use. 
Machine wash at 60 degrees.
The product is type approved according to EN ISO 11612: 2008 and EN 1149-5: 2008.
Materials: 98.6% meta-aramide, 1.4% carbon, antistatic
Measurements (unisex):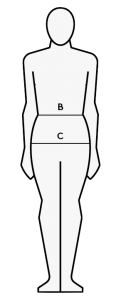 The dimensioning is based on the dimensioning tables given by the federation of Finnish clothing manufacturers (formerly Vaatetusteollisuuden Keskusliitto, now Finnish Textile & Fashion). The dimensions given in the table are fixed body dimensions in centimetres.
B= Waist, cm: The waist is measured at the narrowest point.
C= Hips, cm: Hip circumference is measured horizontally at the widest point of the pelvis.
Size
S
M
L
XL
XXL
A
98-102
102-106
106-110
110-114
114-118
B
85-90
90-95
95-100
100-105
105-110