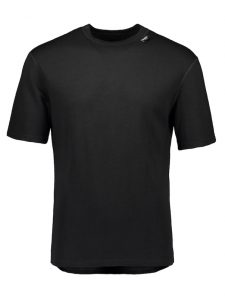 Breathable Merino Wool T-shirt for professional and casual wear. Normal fit, round neck and fitted sleeves.
The fabric has a technical two-layer structure with an inner layer of moisture-wicking polypropylene and an outer layer of heat-binding SuperWash and anti-moth treated Merino wool. All seams are flat flat seams, so the product is comfortable to wear with no pressure or rubbing. Machine wash at 40°, preferably with wool detergent.
Materials: 75% Merino wool, 22% polypropylene, 3% polyamide
Measurements (unisex):

The dimensioning is based on the dimensioning tables given by the federation of Finnish clothing manufacturers (formerly Vaatetusteollisuuden Keskusliitto, now Finnish Textile & Fashion). The dimensions given in the table are fixed body dimensions in centimetres.
A= Chest, cm: The chest is measured at the widest point, under the armpits. The tape measure must run straight across the back.
B= Waist, cm: The waist is measured at the narrowest point.
| Size | XXS | XS | S | M | L | XL | XXL | XXXL | XXXXL |
| --- | --- | --- | --- | --- | --- | --- | --- | --- | --- |
| A | 90-94 | 94-98 | 98-102 | 102-106 | 106-110 | 110-114 | 114-118 | 118-122 | 122-126 |
| B | 75-80 | 80-85 | 85-90 | 90-95 | 95-100 | 100-105 | 105-110 | 110-115 | 115-120 |