A guide to layering
Svala's selection has thermal wear for all conditions and activities.
The secret of comfortable and warm dressing for outdoor activities is dressing in layers. Thanks to layered dressing, you can easily adjust your clothing according to the temperature and your activity level. Layering is definitely the best way to regulate body temperature during outdoor exercise. Svala's base and mid layers help maintain the right body temperature by removing perspiration from the skin.
Below you'll find a handy guide to dressing in layers to keep you comfortable in everyday life and during various leisure activities at any time of year.
What is layering?
Layering is a way to control body temperature with multiple layers of clothing. Each layer has its own important role:
The base layer wicks moisture outwards, keeping the skin dry
The mid layer regulates body temperature
The shell layer protects you from wind and rain
With the right clothing, you'll stay comfortable every minute you're outdoors. The choice of clothing depends on two things:
The weather
Level of physical activity
Svala's range includes clothing for both cold and warm conditions – and many of our clothes work in both. Our clothes have unparalleled moisture wicking properties, keeping the skin dry even during changes in the intensity of physical activity. They also retain body heat, so you won't get cold when you slow the pace.
The 101 of layering
Base layer
When it comes to layering, the base layer is the most important.
The main job of the base layer is to wick moisture away from the skin and maintain an optimal temperature.
The innermost layer should sit snugly against the skin, without being too tight.
If you're the kind of person who likes to break a sweat from time to time, Svala Airbase is the ideal choice. With an Airbase long-sleeve mesh thermal shirt and long mesh thermal underpants against the skin, you'll have all the features you need in one convenient base layer. The outfit effectively wicks moisture from the skin to the outer garments and stores air within the mesh loops, which acts as an insulator against both cold and heat. That's why this underwear is ideal for any kind of activity, whatever the weather.
Thanks to its moisture-wicking and windproof qualities, a Svala Windproof layer is ideal for windy conditions and fast-paced activities.
If you plan to train hard in very cold conditions, choose your base layer from the double-layered Merino Extreme– or Merino Active collection.
For low-intensity activities in cool and cold conditions, we recommend merino wool thermal wear as the first layer. It transfers perspiration away from the skin while retaining warmth. All Svala merino wool thermal wear is suitable both as a base layer or a mid layer.
Power Stretch Pro products are wonderfully warm, and can also be worn comfortably against the skin. They're the top choice for leisurely exercise in extremely cold conditions.
Whatever you do, avoid cotton – rather than wicking moisture away from the skin, it absorbs it. Wet skin gets cold quickly, and movements become difficult – all in all, you're going to feel uncomfortable.
Mid layer
The task of the insulating mid layer is to hold in warmth and keep cold and moisture away from the skin.
The big advantage of a mid layer is that it is easy to put on or take off depending on the activity level and temperature.
In very cold conditions and with varying levels of activity, you'll be glad to have more layers of Svala clothing on hand to keep you warm and dry. Svala's Merino and Power Stretch Pro outfits make an ideal mid layer, helping to regulate body temperature for maximum comfort.
Svala Merino outfits are excellent as a second layer in the cold and for low-intensity outdoor activities.
As warm and soft as could be, Svala Power Stretch Pro fleece is a splendid choice when the weather is very cold and you are not going to be doing any intense activities.
For activities such as fast-paced winter cycling or downhill skiing in cold and windy conditions, Svala's Windproof mid layer garments are a wise choice.
Shell layer
The shell layer protects you from the wind and rain.
Allows moisture to pass outwards through the inner layers.
When choosing the shell layer, it's important to choose a size that's loose-fitting enough that the other layers fit comfortably underneath.
To ensure that moisture can pass properly through all the layers of clothing, we recommend always wearing a weatherproof but breathable shell layer. In cooler conditions, a thin windbreaker is enough, but when the temperature really drops, padded clothing is essential.
Break time is time for a change
Whether it's work or play, everyone needs to take a break once in a while. However, it's during these times that the body starts to cool, and unless you're wearing enough layers to retain enough body heat things will quickly start feeling a bit nippy.
After strenuous exercise, the body temperature stabilises and sweaty clothes can stick to the skin, making you feel cold and uncomfortable. Happily, you can avoid this by making sure you're wearing a Svala Airbase base layer outfit.
Sometimes, it can be a good idea to be prepared for periods of low activity by packing some clothing to be worn only during breaks. What you need for this is clothing that's light and takes up little space, such as a Power Stretch Pro vest or hoodie.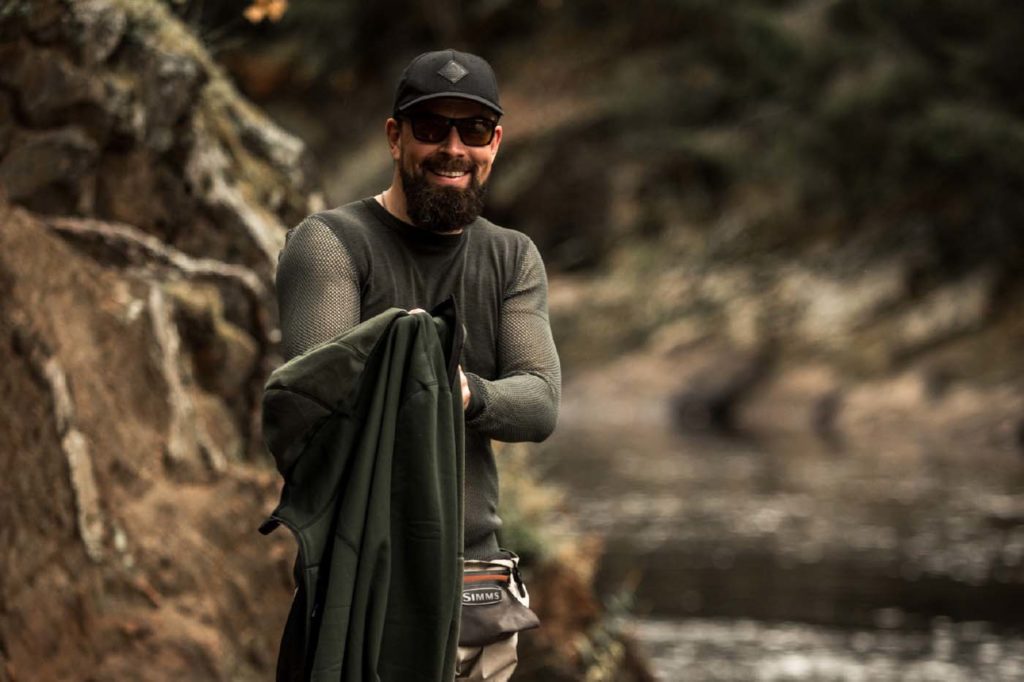 Dressing in layers: the basics
The base layer wicks moisture away from the skin.
The mid layer regulates body temperature.
The shell layer protects you from wind and rain.
Whether you're going on a longer hunting trip or whooshing your way down the mountainside at the ski resort, you'll find just the right outfit in Svala's selection to keep you comfortable from start to finish. See our handy guides to dressing for various outdoor activities.
Sustainability
All Svala products are made in Finland, and meet the most demanding quality criteria. We only use raw materials from suppliers that are audited and whose materials are certified. All the merino wool Svala uses comes from healthy sheep and is mulesing-free.
The materials used in our products are of the highest quality, easy to care for, durable – and above all, comfortable. All the materials used in our products have top-class properties, thanks to which they do not need to be washed as often as ordinary clothing.